If you are thinking and wondering how to record your live music performance, you should consider buying some equipment for that task.
It's true that you can record live audio with a built-in microphone in a laptop, a smartphone or a handy recorder.
However, if you want to achieve a better sound you will need some extra equipment. You will need at least a sound card, USB audio interface or analog/digital live audio mixer.
Of course, the combination of these two devices would be perfect, but as we know that advanced consoles have a number of options for recording.
Most have a USB or Firewire connection, and may be the best choice for capturing live audio performances.
Soundboards for recording
I/O
A number of inputs on the mixer are just one of the many important factors. If you want to do a live sound recording of your entire band, you can't use a mixer with only, for example, 4 input channels, because only drums will require every channel.
However, if you intend to record a podcast show with guests, several input channels should be enough for you. There is also the question of physical size and I/O (input and output) placement because there is a big difference between analog consoles and digital when comes to size, weight, and I/O connectors location.
Smaller mixers have their inputs on top like most of the analog desks but a lot of digital models have their I/O on the front or their backside. In a live sound mixing situation as well as recording performance, you need a mixer with enough inputs to handle the combination of microphones and other instruments you want to capture.
Onboard Signal Processing and Effects
Another important factor, maybe not for a studio recording but definitely for live performance, is a signal processing options. Most analog and digital audio mixers have at least EQ on each channel. Usually, digital mixers provide much more signal processing than analog which means that you will need to throw less on additional equipment such as reverb, delay, compressor, limiter…etc.
Also, a lot of analog sound desks have effects built in such as reverb and delay. You should pay attention that onboard effects have their own aux bus; if not, you could lose a monitor mix in order to apply effects to your instruments or vocals.
There are several ways and approaches on how you can record from your live sound console depending on whether it's digital or analog and I am going to introduce you with these and explain step by step how to record audio to any other device. You might be interested in my other post on auxiliary return and send.
Analog Recording from a Mixer
Analog models remain popular because of their lower price and ease of use despite the greater versatility of their digital rivals. Their operation can be somehow more natural and more interesting because of that feeling which their physically controlled functions such as faders, knobs, and switches provide. Many people find that the analog mixer's signal processing and routing are easier to understand and achieve rather than small screens on a mixer board, Ipad or smartphone.
In the past, the analog mixers were very large and heavy but now it's much easier since you can carry them in your backpack. With the development of USB technology, the analog mixing desk have evolved, so today,  with many having a USB port, you can easily record your performance to your PC. Read my review of the Yamaha MG20 soundboard.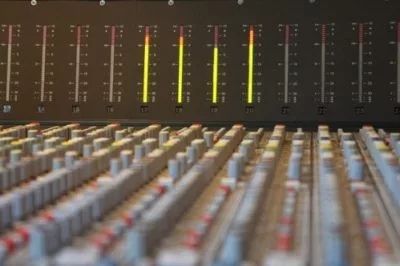 Recording from Digital Consoles
Many musicians and churches have moved over to using digital mixers in recent years. Once you try and learn to use it appropriately, you will perhaps not want to return to analog ever again. Soundcraft, Allen&Heath, Behringer, Yamaha, Midas, QSC, Mackie, Presonus…One of the most popular in churches is the Behringer X32 and is one of the best sound mixers for church.
We can say with confidence that you will not go wrong with any of the listed brands. From the cheapest to the most expensive model, be sure that it will provide you with all the necessary features you need to get a sound as good as possible. You might want to read my post about the best sound console for church.
One of the best features of digital mixers is the ability to save presets. You can forget about boring, long-lasting sound checks with just a few clicks or touch on the screen. Some of them can be controlled wirelessly with iPad, laptop or any smartphone. Yes, that means that you can walk around the auditorium, room or studio and make changes to your desk remotely.
Connect mixer to a computer – what cables to use?
When connecting an analog mixer with standard outputs with your recording devices, make sure that your mixer is powered off and set master and channel faders all the way down (or just press standby if it has that option).
Find master outputs on your mixer, inputs on your sound card and determine what kind of cables you need to connect these two devices. Now comes the tricky part and a couple of solutions which depends on connectors on your console.
Dual RCA cable from your mixer output from one side to 3.5mm (1/8″) Stereo mini jack directly to your computer mic in or line in.
Dual RCA cable from your output from one side to dual RCA cable to your sound card.
Y stereo cable, two mono 6.5mm (1/4″) jacks from mix output L and R to stereo 3.5mm in your PC.
Y cable – stereo cable, two mono 6.5mm (1/4″) jacks from output L and R to stereo 6.5mm to your soundcard.
Two mono cables 6.5mm jacks from output L and R to soundcard inputs L and R inputs.
XLR cable from the Left/mono output of your to your PC or sound card with stereo jack 3.5mm or 6.5mm
2 x XLR cable from Left/Right output of your desk to your PC or sound card with 2 x stereo or mono 6.5mm jacks
2 x XLR cables from both sides (male-female connectors)
stereo 6.5mm jack cable from mixer phones output to stereo 3.5mm or 6.5mm to your pc, soundcard, smartphone or recorder
Y cable – 6.5mm jack stereo cable from phones output to 2 mono 6.5mm jack cables to your soundcard or recorder
USB 2.0, 3.0 or Firewire
These would be the most common ways and the most used cables for connecting a soundboard to computer, sound card, iPad, iPhone, Android and standalone devices.
Capture From Sound Board To A Computer or Laptop
If you want to record live audio directly to computer from your mixing console, you will need a sound card. Luckily, every laptop and pc has an integrated soundcard and has a line in or mic in with 3.5mm mini-jack input connection. Of course, a better solution would be that you get an external sound card or USB interface which will provide you with standard jack inputs 6.5mm (1/4″) and/or XLR inputs. Read about Focusrite and Presonus computer audio interfaces.
Not only that will be easier for you to connect your sound desk to pc but it will also cut down CPU usage in your DAW (digital audio workstation) and provide you with a faster response (lower latency).
If you own a sound board with an integrated mixer audio interface (sound card) or digital mixer that would be probably the best and easiest way to connect, transfer and record your audio signal to your PC because this kind of model has a firewire or USB port.
After you properly connect your mixer to your PC, you will need DAW software to successfully record your performance on it. Some of the most popular DAWs are Reaper, Studio One, Reason, Logic Pro, FL Studio, Cubase, Ableton, Pro Tools etc. Unfortunately, for any of these DAWs, you will need to spend a certain amount of money.
But do not worry, there is a free solution for audio mixing software. Audacity is one of the most popular free audio editing software packages in the world and can provide you with good quality results. Also if you are looking for a PC for music production, check first with your chosen DAW provider that the computer will have the right spec to run the software.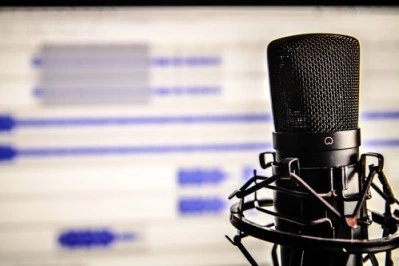 Audacity and USB Interface or Computer Sound Card
Not only because it's free, but Audacity is also very user-friendly which makes it one of the most popular audio recording programs. Just after connecting your USB audio mixer to computer, open the program and click on the recording button and start your session.
In addition to being able to use it for recording, after capturing your audio, you can edit recorded files, cut, move, replace, remove noise from it and much more.
Connect your mixer with PC, laptop, or soundcard
Open Audacity
Select your Audio Host, Recording Device and Playback Device from the drop-down menus
Set recording volume
Turn the software play through off – (Transport > Transport Options > Software Playthrough (on/off)) *if this feature is on, an audio interface will play recorded content and it will cause feedback; if you are using headphones for monitoring it is ok that play through feature is on
Click on the record button and start recording
When finished, you can edit it, save and export
Now, when you have your voice or instrument recorded and saved as a WAV or MP3, you can always open it and make additional edits to it in Audacity. Check out my more in depth instructions on recording with Audacity.
Using an iPad/iPhone/Android SmartPhone for recording
The Apple iPad may be an exceptional portable studio and could be really simple to use with, for example, GarageBand app and basic audio interface. You could have your own studio which you can easily take anywhere. Things got serious with these little devices but also messy because of cables needed for proper connection. Only a few years ago, who would say that this will be possible and so simple in the near future. If you do go down this route, it is worth checking out what is the best phone for audio recording.
So, you have a mixer, lineouts and iPad phones mic input (which is also phones output). RCA cable will go from mixer to your phone mic input with the stereo 3.5mm jack. Simple, right? All you need is to open your recording app on your phone or iPad. But…
The headphone/mic input/output on the iPad, iPhone, Android smartphone is meant for stereo headphones signal and microphone mono signal. That means that your recording via this connection can be only mono. Also, the input level is much lower than needed for a proper live audio recording. There are cables on a market with a built-in attenuator that balances the signal but even with that cable (iRig2, RÖDE SC4, HeadsetBudd …), the recording will still only be mono. For any kind of recording work, remember you will also need good quality headphones for live mixing and recording.
Another option would be through a USB connector on your phone or iPad. Yes, that connector isn't just for charging and exchanging files but for advanced usage of this connector, you will need an On-The-Go (OTG) cable or adaptor for Android or "Lightning to USB Camera Adapter" for iPad and iPhone. These adaptors allow the phone to be used as a USB host, just like a PC. That would be the first step.
If you don't have USB mixer, you should get at least simple audio interface/sound card. Then with a pair of RCA, or 6.5mm cables (depending on the audio interface) connect your sounddesk with it. After you connected have the mixer and sound card, connect your iPad or Android with the sound card also with adaptors we already mentioned. Download USB recorder app from Google Play or App Store.
If you own a USB mixer, then forget about the audio interface and just connect it with your phone with simplest USB cable.
Recently, Roland company introduced us with a little affordable (around $100) gadget called Go: Mixer. With this compact unit, you can record in high-quality up to five (with Pro version up to nine) instruments directly to your smartphone with a USB connection. With Roland's app for this device, you can easily film a video as well as audio. It couldn't be easier.
Software Or Standalone Multitrack Recorder (MTR)
Multitrack recording is, simply, the process of laying down many instrument or vocal tracks at the same time. Multi means many and tracks would be, in this context, audio. Usually, a technician will record each instrument separately and then adjust volume levels to mix everything properly. But with a multitrack soundboard, a whole band can play a song at the same time and after that, the producer can process each track as he wants.
The most common example of multiple channel recording would be a track for vocals, one for bass, one for guitar, one for keys … What about drums? It depends on the engineer … drums could have one track and could also have a track for each component. Don't be fooled. Not every mixer with a USB connection can offer you multitrack output! There are also other options like handheld audio recorders.
Hardware recorders – Standalone Units
Dedicated hardware recorders are really worth investing in if you plan to do a lot of recording. The most important thing is that these models tend to be extremely stable. There are really low chances that it can crash.
They are usually compact and be sure to keep an eye on its hard disk or card media capacity. Advantages of a standalone multitrack unit would be Plug-and-play operation right out of the box and easy learning curve since they are made only for one purpose – to multitrack recording.
There is no need for drivers, updates, additional setup because it has the narrowly focused scope of operation. You will be able to just plug in each instrument in its input and start right away. A professional voice recorder or hd audio device can be a good investment.
Recording Software options
An alternative to a relatively expensive standalone device is a PC with some Digital Audio Workstation which can provide a multitrack recording and a decent audio interface or analog/digital mixer which can provide the multi-channel recording. Audacity is technically a DAW, but there are many software packages out there that are far more sophisticated, such as Cubase, Ableton and Pro Tools(see below).
As you know, there is always potential instability or incompatibility with PCs. The main advantage of this kind of recording is being able to go directly into the DAW and then edit, apply effects, mix, etc. If you choose to record with software, you should consider using your PC only for that purpose, to avoid a risk of instability.
The whole idea of multitrack recording with an analog/digital mixer with firewire or USB or just an audio interface with that feature is that you should just connect your it with your PC open DAW and start. But in reality, it isn't that simple. Usually, there is always something that you need to update, install, reinstall, setup, refresh, reboot, and it can be a real headache.
FireWire or USB
Though there is much debate about which one is the better, although Firewire is supposedly faster, given that there is no concrete evidence of the difference in the quality of the audio recording since it is all in digital format, we can't stand on either side. The thing we know is that USB is much more used and implemented in mixers because it is a bit cheaper than Firewire. Also, the important fact is that when you see regular USB connection on a mixer, it usually means that it can't offer you multitrack recording while mixers with USB 2 (3), or Firewire port can.
Using Pro Tools
Probably you've heard many times that Pro Tools is one of the best DAWs on the market and we certainly claim it's true. For some beginners, it will not be easy to record in this program since it's a bit more advanced than the rest. But we will certainly do our best to explain to you what the process of getting audio from your mixer will look directly in Pro Tools.
If you plan to capture a single instrument or stereo session, it should not be that complicated. But before you click that red dot button there is a couple of things you should do and check.
We will consider that you have properly connected your mixer to sound card or directly to the PC and installed all the required audio mixer software and drivers which comes with your audio interface and DAW.
First, you should turn on your PC, then sound card (if you have it) and the sound console. When everything is prepared, open Pro Tools and set up the inputs and outputs. Make sure that the proper playback engine is selected and check for the input in Pro Tools preferences.
Start the new session and name it. Create a new track and name it also. Click the "R" button on that track you want to work with. That R button on track means that recording is enabled and when you press the record button on the transport panel that marked track will be one recording.
Then find that large red dot button and click it. When it starts blinking red, then press the space bar and start your recording.
Here is some gear I have found useful  –
Focusrite 18i20 USB Audio Interface(8 inputs and comes with rack mount kit and copy of ProTools – found it to be great for recording from mixer and fits nicely into our 18″ rack unit. Extra channels allow multi-track too with worship band) #ad
Tascam SD-20M Solid State Audio Recorder(this has been a great piece of kit for us too and handy if you don't want to mess about with software. It's also only 1U high, so won't take up much room in your 19″ rack) #ad
SDXC 128GB Memory Card(SanDisk is always good quality and has never let us down)
iRig 2 Audio Interface for iPad, iPhone etc(this has been a good solution for us for just doing a quick recording to iPad. It can also be used with a Mac/PC too)