There has been a significant improvement in music technology in recent years, and professional audio is not an exception to this. The arrival of digital mixers has brought some amazing features, effects and options for sound engineers that in the past would only be available on the most expensive consoles. Many churches have been using analogue mixer boards for many years, but in recent years many are changing over to digital soundboards.
Churchsoundtips.com is a participant in the Amazon Services LLC Associates Program. As an Amazon Associate Churchsoundtips.com earns from qualifying purchases. 
Digital mixing console for live sound and still relatively cheap?
Whatever the context, whether in a church or club, where there is a live performance of music, you need to have the best sound mixer within your budget. In the following paragraphs, we have thrown some light on the top 5 most popular digital console mixers out there.
1. Yamaha 01V96I 16-Channel Mixer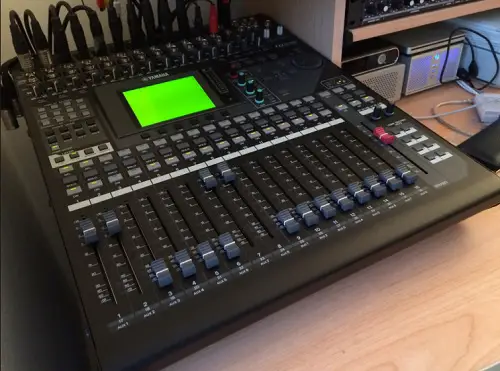 Features:
24 bit digital mixing console along with forty mixing channels

24 built-in inputs

Enhanced head amps of studio quality

Complete set of VCM DSP effects along with high-resolution reverb

Studio Manager Editor along with complete mixing control via Mac, PC and also iPad
Review:
This particular digital mixing console from Yamaha is not much different from its earlier versions. In fact, it continues to feature the same interface, the same flawless sound, as well as physical package. However, the only significant modification comes in the form of the extra USB interface.
The astounding Yamaha 01V96I is reputed for its fantastic sound quality and is capable of sampling 24 bit, 96 kHz without any effort at all. Moreover, the build quality of this mixing control truly deserves special mention. You will also have the additional option of rack ears as well. #ad
However, when it comes to aesthetics, this gadget is not the most competent one on the market, and rather appears to be a bit obsolete. Nevertheless, it should not bother you in case you are looking for better sound, flexibility as well as mid-level track counts.
There are as many as twelve XLR/Line inputs along with a couple of stereo line channels for 16 physical inputs in total. Nevertheless, the mixer is billed by Yamaha as a 40 channel digital sound mixer even though this mixing console is actually a 16 track recording setup. Therefore, a question might arise regarding where these mysterious additional channels actually come from and also how they can be used. Well, the answer to this question is rather tricky. Here, it should be mentioned that one needs to record 16 tracks in order to make this mixing console use all the 40 tracks.
After this, they are controlled by one single bank of 60 channels among which the mixer has got only 2. The other bank, consisting of channels 17 to 32, can be the existing sound sources connected to the 16 inputs. For instance, these could be percussion modules, eight stereo synthesizers, hardware effects outputs, and anything that can be played along with the already recorded material. The console can boast of MIDI in, thru, and out capability which makes the DAW sequencers and synthesizers so nice to hear.
Pros:
Simple to use

Versatile

Top quality sound mixer board
Cons:
It is difficult to access the phantom power switches

DAW control capability differs from software to software
Customer Reviews:
Most users highly recommend the Yamaha 01V96I for it's durability, sound quality, and a number especially highlight the onboard effects.
To check the current price of the Yamaha 01V96I click here
#ad
2. Soundcraft Si Expression 1 Digital Mixer Board 16-Channel Live Audio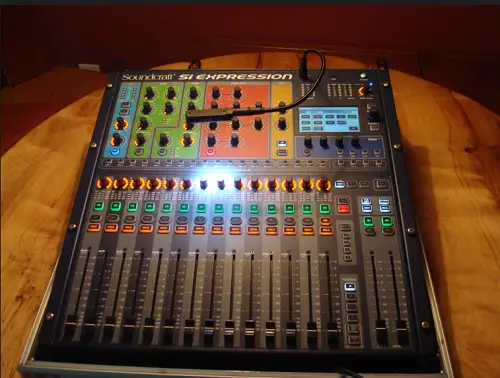 Features:
16 mono mic inputs

66 inputs to mix

4 line inputs

Faders and patching can be assigned freely
Review:
This cutting-edge digital mixing console is undoubtedly one of the better products on the market right now considering all the outstanding features offered by it. Although it is not the most inexpensive device out there, it is definitely worth its cost. In case you do not mind spending a few extra cash so as to get a really awesome mixer, then you should not give any second thoughts and go for this device right away. You can be guaranteed of the fact that you will get what you want from this amazing gadget. #ad
This particular version makes use of the most recent technology which helps it to become more and more popular over time. It will provide you with the best experience from the innovative 1-touch easy mix. This implies that the FX, Aux, or the main bus will be mixing everything on the touchscreen. In this way, things will become very easy for you in case you would like to make any change in a snap.
The revolutionary 16-Channel Live Audio Mixer from Soundcraft also comes with the attractive FaderGlow shades which endow the product with different colors for every single fader slot. One more significant feature of this remarkable device is the presence of the Direct Out Gain Stabilizer that helps to prevent any manual gain control modification from influencing the direct out levels. You will find this to be very beneficial while you are recording from any direct out or if a couple of consoles are in use sharing the identical stage box. #ad
One more essential feature offered by the mixing console happens to be the innovative copy and paste functionality which definitely deserves appreciation from the most of the users. You will be able to copy a wide array of functions by using this option which can be mixes, channels, settings, and so forth. In this way, the model will become more versatile such that it can be used more often by the users over time. #ad
The Si Expression 1 Digital 16-Channel Live Audio Mixer likewise includes an effective security option which will not allow anyone apart from the authorized users to have access to the device. Consequently, there is no need to be concerned about those individuals who might try to use your mixer during your absence. #ad
In a nutshell, it can be rightly asserted from the above facts that this incredible console is definitely one of the best on the market. Being compact in design, you simply cannot ignore the sturdy feel that this product will give you. Although it might lack RCA connections, the number of positive aspects that come with the device easily outweighs this particular drawback.
Pros:
Compact design

Graphical EQ

Sturdy feel
Cons:
Absence of any RCA connection
Customer Reviews:
Many users comment on the value for money you get with this mixer with so many features.
To check the price of the Soundcraft Expression1, click here
#ad
3. Allen & Heath QU-16C Rack Mountable Compact Digital Console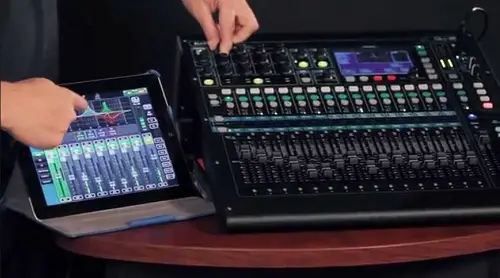 Features:
16 AnalogiQ preamps along with 0 crossing detection #ad

Metallic high-contrast finish controls provide outstanding low illumination visibility plus improved tactile control

5-inch 800 x 480 16 millions color touchscreen as well as a competent data encoder

17 ALPS faders enable instantaneous access to all the channels plus masters within a small space
Review:
This fantastic rackmount digital mixing console happens to be a remarkable 16-channel mixer which includes an amazing and simple-to-use USB audio interface intended for live audio as well as for studio use too. This particular model incorporates high-contrast rotary as well as fader knobs that help to enhance visibility in conditions where the illumination is rather low. Moreover, there have been quite a few software enhancements in this model as compared to the earlier versions given that this particular product can boast of a 16 mic/line inputs plus 3 stereo line input as well. #ad
The astounding 16 anaLOGIQUE mic preamps include digitally recallable configurations which can be saved as well as recalled for any session in future. A wide array of output options is available with this outstanding Qu-16 which includes as many as 4 mono XLR outputs, 3 XLR stereo-pair outputs, a TRS stereo-pair two-track output, an optional TRS stereo-pair output, as well as a two-channel AES digital output.
You will come across four stereo effects returns plus sixteen busses, while the system will also provide you with a wide array of routing options apart from controls. Besides this, it can also boast of a breathtaking 5-inches touchscreen with a resolution of 800×480 which will display the RTA views, processing, effects tracks, routing, as well as saved scenes. It is possible to control the 16 tracks with the help of the sixteen 100mm motorized faders. Besides all these, there is likewise an integrated processor which will enable you to compress, EQ a mix, switch polarity, and so forth. On top of this, you can also save all these settings as a scene which can be used afterward according to your own convenience. #ad
The innovative internal converters will allow this console to function as a USB audio interface as well. This will help you to record to any of the Core Audio-compatible applications available for your Mac at present. Moreover, it will also be feasible to record and also play back the audio from any USB hard drive which is fitted externally. The console works with the most recent Qu-Pad iPad application which enables you to handle your mix along with your iPad efficiently over any wireless network. You may likewise rackmount the device or even place it on a desk.
Pros:
Incredible sound #ad

Simplicity of usage

DAW control

4-band fully parametric EQ
Cons:
Absence of any option card

Absence of any multiband comp

Lack of any AES input
Customer Reviews:
This sound mixer board comes highly recommended from many users, with mention of the touchscreen, sound quality, effects and ease of use. It is certainly one of the top digital audio mixers for live sound on the market and at an affordable price.
To check the price of the Allen & Heath QU-16C, click here
#ad
4. BEHRINGER X32 COMPACT 32 Channel Sound Board for Live Audio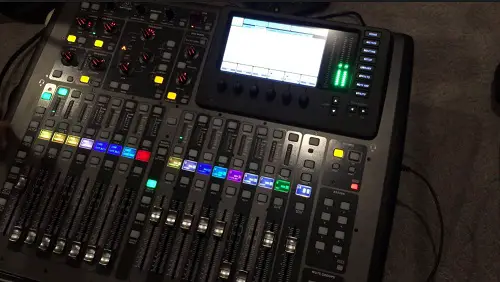 Features:
Compact forty-input channel plus 25-bus mixing console

16 fully programmable, MIDAS-designed mic preamps

17 automated 100mm faders

8 XLR outputs as well as 6 extra line in/outputs
Review:
The Behringer X32 has made a significant impact in this contemporary digital mixer world mainly because of its easy affordability as well as the innovative design and technology used by it from the reputed Klark-Teknik and Midas stables. Anybody who has been involved with live sound must have come across this particular product which is known for its compact design plus easy-to-use control layout that has been upgraded significantly from the previous models. Nevertheless, in spite of the number of the XLR outputs and inputs being halved, the master-section plus output busing functionality remains almost the same.
When it comes to basic functionality, you will not be disappointed by this mixing console. The cutting-edge 16 mic preamps along with 16 analog XLR inputs plus 6 auxiliary inputs and another 16 inputs which are available via the AES50 ports make this product truly worthwhile for any user out there. As many as 25 buses which consist of 3 main ones, 6 metrics buses and also 6 "aux" buses are responsible for routing the signals flawlessly. #ad
On the other hand, the device routes the bus signals to sixteen analog XLR outputs plus 6 TRS jack outputs along with a couple of full-size headphone jacks (each 6.3 mm) at each end of the board all of which help to produce the effect as desired by the users. Moreover, it is likewise possible to select which side you would like to have the headphone cable on.
Similar to almost every other digital mixer out there, the Behringer X32 mixer consists of a single set of processing controls that function like the "channel strip" for any channel that has been selected presently. Even though this is not a very familiar approach to any individual who has not made use of a conventional analog console in the past, he will be able to operate it flawlessly once he gets accustomed to the control surface over time. Moreover, the device prevents to attempt any illegal operation, for instance, bringing up and adjusting the EQ on the DCA group. #ad
The innovative LCD scribble strip is another significant feature offered by this mixing console and the compact LCD screens are quite clear as well as bright for viewing in the daylight. It is possible to re-patch the inputs according to your own preference as well.
This mixer is going to offer more than adequate top quality internal effects for the user to handle. You will come across a useful home button on every single screen which will make it very easy to select using the innovative rotary controls. You will have complete control over every parameter within the genuine high-resolution graphics interfaces while the input resources will be displayed clearly and can also be changed easily by going to the effects summary page. I have also written another post about digital mixers you may be interested in about the Midas vs Behringer mixers compared.
Pros:
Accurate controls

Simple to use interface

Compact design

Fantastic sound

Versatile
Cons:
Customer Reviews:
A number of user mention how easy it was to get started with this digital mixing desk, and many other said they were very happy with it's sound performance overall. IN my opinion, it's the best budget audio mixer and also the best digital mixer for church.
To check the price of the Behringer X32 Compact, click here
#ad
5. Mackie DL1608 16-Channel Live Sound Digital Mixer with iPad Control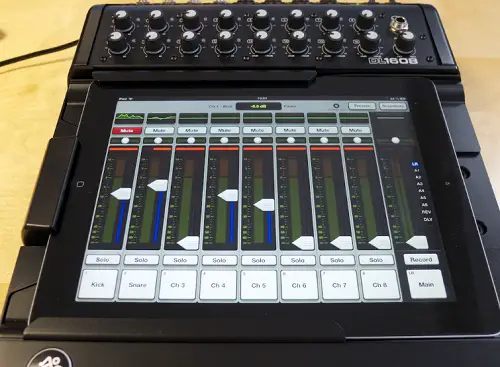 Features:
Powerful 16-channel mixer

Seamless wired-to-wireless mixing

Can be controlled from any iPad using the Mackie Master Fader application
Review:
As verified by the innumerable positive reviews from across the globe, this superb digital mixing console is going to combine the simplicity of using an iPad along with the power of a robust mixer. The DL1608 offers the freedom to control the mix remotely from just about any place in the location.
The sound quality of this gadget is beyond question and the device can boast of premium hardware such as sixteen Onyx preamps whereas excellent sound quality is delivered by the innovative Cirrus Logic converters.
The astounding Master Fader control application which comes with the device is known to provide fantastic wired-to-wireless control over lots of top quality processing for every output and input. On top of this, it will also be feasible to control the device remotely from as many as 20 iOS gadgets.
It is the Master Fader control software that comes along with the gadget which is responsible for making everything to happen. As a matter of fact, the speed of this component is incomparable thanks to the speedy navigation of all the functions. Apart from this, it will also be possible to personalize the work surface of your specific app while selecting only those controls that you need. You will be ensured of creating a superb sounding mix without any effort at all thanks to the powerful processing capability that includes complete control over every output as well as input. You might also be interested in this post on analogue and digital audio snakes.
Each and every channel will allow you to select any plug-in of your personal choice along with effects so as to obtain the perfect sound according to your preferences. Amongst the selection options compressor/gate, vintage gate, vintage 3-band EQ, four-band parametric EQ, vintage compressor, and excellent sounding reverbs plus delays deserve special mention.
When it comes to the outputs, every single output on this mixer has got its own personal processing power which is ideal for dialing in and also tuning the speaker that is connected to the device. Amongst your selection options, mention may be made of an innovative 31-band GEQ with 2x zoom and a simple draw option, four-band parametric EQ along with LPF and HPF filters, real-time analyzer, compressor or limiter, as well as up to 350 MS alignment delay. #ad
It is imperative to have a fast and smooth navigation for all the mixing functions. As a matter of fact, the robust mixing of the DL1608 is primarily centred around 3 views: Channel View, Mixer View, and Overview. Put simply, it can be easily asserted that this gadget has made contemporary digital mixing very simple.
You also shouldn't forget that there is a superb 32 channel rack mount version of this mixer available.
Click here to find out the current price.
#ad
Pros:
Wireless mixing enables you to make use of the iPad effectively

Performance of Mackie Onyx pre-amps is awesome

No need of any outboard

Assignable channel tags

Easy-to-use interface

Cheap digital mixer with good features
<
Cons:
Additional cash is needed to purchase the Rack mount kit

Absence of any fader

Is able to record only 2 channels
Customer Reviews:
Users mention how easy this mixer is to use, the onboard effects and sound quality too.
To check the price of the Mackie DL1808, click here
#ad
Comparing All These Above-Mentioned 5 Mixers:
In case you would like to be the owner of a small-sized digital desk, the Yamaha 01V96I 16-Channel Mixer will definitely be the clear winner. However, the Behringer X32 Compact will stay ahead in the competition in terms of workflow and sound production that we will be getting a full analog mixer/outboard combination with this product. Allen & Heath QU-16C offering an amazing set of innovative features is going to be the best bet in case we want premium quality audio at a truly inexpensive rate.
If we want to possess a compact mixer with outstanding features, the Mackie DL1608 is going to be ideal for us. As a matter of fact, this device has already created a new generation of Mackie followers. Lastly, if you are looking for a church sound board which is very simple to use but will also rival analog console while producing excellent sound, it will be prudent to go for the Soundcraft Si Expression 1 Digital 16-Channel Live Audio Mixer.