Here is a list of products that I have used personally and highly recommend. Hope you find it useful Please feel free to ask questions in the comments section below.
Churchsoundtips.com is a participant in the Amazon Services LLC Associates Program. As an Amazon Associate Churchsoundtips.com earns from qualifying purchases. 
1)Sony MDR7506 Professional Headphones
This pair of headphones are excellent for monitoring work for your mixing console. They have great frequency response, closed ear design and are comfortable to wear. They also come with a 1/8″ jack as standard, but also a 1/4″ adapter. Read more about headphones for a good sound mix.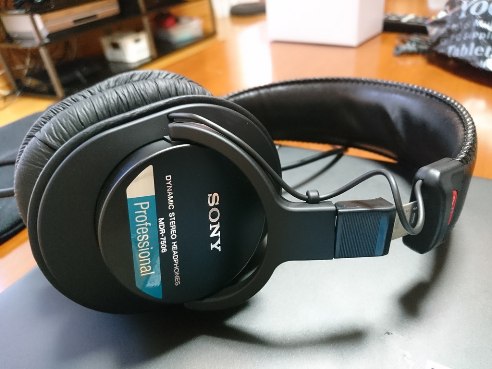 2)Zoom H2n Handheld Digital Recorder
The Zoom H2n Recorder is one of my favourite pieces of gear.  I am currently on my second one, after stupidly dropping my first one on a stone floor. I didn't hesitate getting another one as the sound quality is so good. It's great for recording sermons, but as the Zoom recorder is portable, it is also very handy for recording meetings and conference talks. It is also a great mic for podcasting as you can plug it straight into the USB on a laptop or PC and use as a digital microphone. It records in WAV or MP3 format onto a SmartMedia card which allows you to transfer files to PC.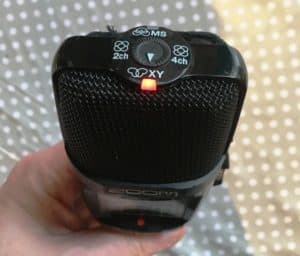 3)Mackie PROFX4V2 Channel Mixer
If you want to set up a PA system in a smaller meeting hall or for a seminar type meeting where you don't need a lot of inputs, then the Mackie PROFX4V2 is a great little mixer for the money. There are other small mixers out there that are cheaper, but few with the reputation for quality sound that Mackie has. This mixer comes with 4 channels, 1 & 2 have balanced XLR and unbalanced jack inputs, channels 3/4 has unbalanced line inputs.
You can also run 48V phantom power from this desk which is pretty amazing for it's size. There is also some basic EQ for each channel and built in 5 band 'system' EQ. It also comes with 16 built-in effects. You also have FX and Monitor send and headphone monitoring too. All round, a great little mixing console and very versatile for it's small size.
Click here to check price on Amazon. #ad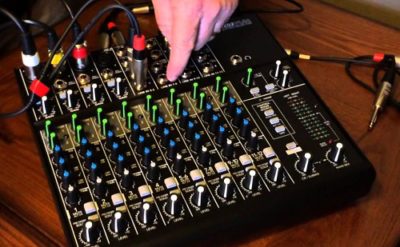 4)Sennheiser E935 Vocal Microphone
This is a great vocal microphone if you want to move up a step in quality and don't mind paying a little bit extra. Made in Germany, it is a robust and quality microphone with great frequency response and great for both male and female voices. If you are looking for something out of the ordinary and want to try something of higher quality, this mic is well worth a try. Read my full Sennheiser e935 review here.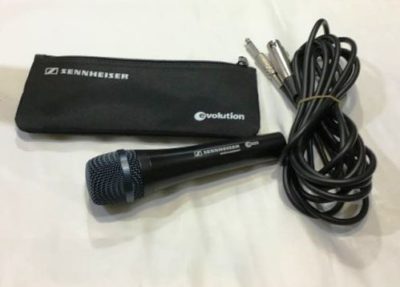 5)AKG C1000 S Condenser Microphone
This is such an amazing microphone for instruments. It's ideal for acoustic instruments like guitar, flute, violin etc As it is a condenser mic, it does require 48V phantom power, and has an on/off switch on the side. As with any product by AKG, it is very well made and just a quality microphone all round. You might also be interested in my post on how to mix acoustic guitars live.
Click here to check the current price on Amazon. #ad
6)Livewire SPDI Passive DI Direct Box with Attenuation Pad
If you have musicians on stage, such as guitar, keyboards, bass, you will need some DI Boxes. The Livewire DI box just works and is pretty reliable. There are a lot of DI boxes out there a bot cheaper than this one, but very often they can be poor quality. And there are quite a few that are a lot more expensive too, but if you need to buy half a dozen DI boxes, then it can become very expensive.
This model is a good balance between quality and price. It has an unbalanced high-z in/out and a balanced XLR high-z output. It also comes with a 0/-20/-40 dB attenuation switch and a ground lift switch. Highly recommended.
7)Rockville REQ231 Stereo 31 Band Graphic Equalizer
If you have a look at different models of stereo equalizers, there is a big variation in price. There are a lot of cheap EQ units out there, but tend to suffer in quality and reliability. This model by Rockville is a piece of good quality kit, but isn't too expensive either. With dual 31 band equalization, it is ideal for your system EQ. It has signal to noise ratio >93 dB and distortion of 0.005%. The frequency centers range from 20hz to 20 kHz and has 6 dB and 12 dB cut/boost on each channel. Inputs and outputs are both balanced and unbalanced and there is also a balanced XLR sub output.
Click here to check the price on Amazon. #ad

8)
Shure PGADRUMKIT7 7-Piece Drum Microphone Kit
This 7 piece drum microphone kit by Shure is a great piece of gear for any church setup, especially in medium to large sanctuaries. It comes with one PGA 52 cardioid dynamic mic for kick drum, 3 PGA56 mics for snare and toms, 1 PGA57 and 2 PGA81s for cymbals. It also comes with 4 mic clips, but you will need a small mic stand for the kick drum and regular mic stands for cymbals. These mics consistently produce a great sound and is a favourite of many drummers and sound engineers.
Click here to check the latest price on Amazon #ad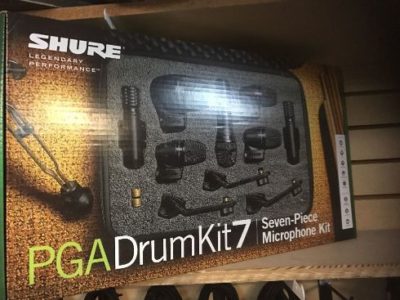 9)Yamaha MG20XU 20 channel Mixer
This 20 channel mixing console is one of my favourite pieces of equipment. I have been using one for a couple of years now and it has never let me down. It has 12 inputs that can take both balanced or unbalanced signals, and chan 1-8 have a compression control and you can group channels together which has proven to be very useful. Each channel has high and low eq and mid sweep. There are 4 monitor outputs and you can set each of the four monitor levels for each individual channel. This model also comes with built-in digital effects which is a nice bonus.
Check out my extensive Yamaha MG20XU review.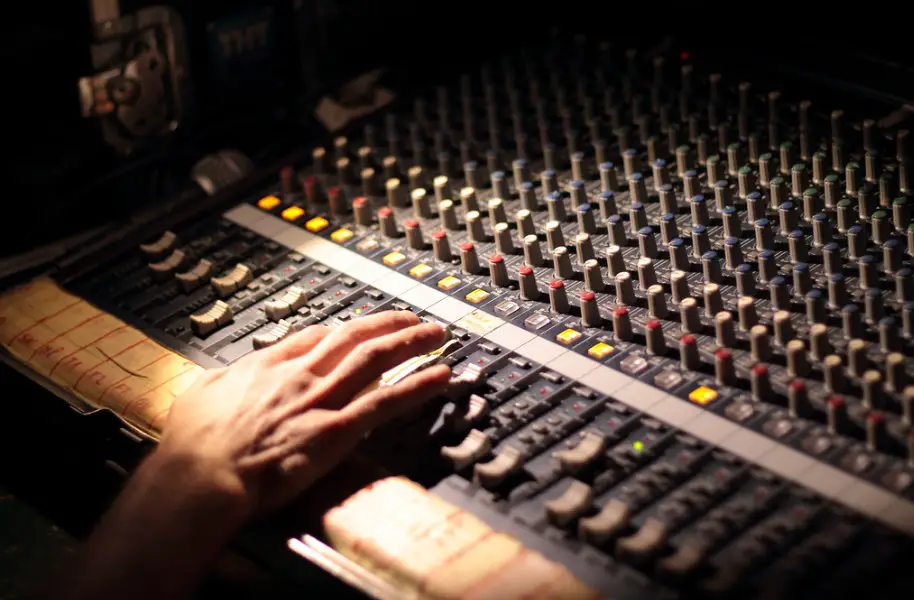 10)Gator Framework Short Mic Stand
This is a nice little stand, ideal for miking up a drum kit, just at the right height for kick drum microphones. There are other instruments it can be useful for, such as a cajon drum, and for miking up guitar amplifiers. A very well made and sturdy microphone stand.
11)GLS Audio XLR Mic Cable Patch Cords
When it comes to XLR cables it really isn't worth buying cheap. I've done that and regretted it later. Poor cables can be the source of all kinds of problems in a PA system. If you buy decent cables from the word go, you could save yourself a lot of headaches later on. When it comes to cables, you will need to look hard to find better ones than by GLS Audio. Just read some of the reviews on Amazon. There are very few complaints if any. If you can get these as part of a bundle deal, all the better.
12)Focusrite Scarlett Solo and 2i2 USB Audio Interface
When recording sermons or worship services for podcast etc, there are two options. One is to use a handheld recorder(like the Zoom H2n that I mentioned above), or you can record straight to a laptop or PC. If going with the second option, you will need a USB audio interface of some kind. The Focusrite Scarlett interface is relatively cheap and provide very good quality results for the money. It has 2 channels, one is balanced XLR and the other is unbalanced 1/4″ jack. It has +48V phantom power and a headphone monitor output. If you are in a small to medium size church and looking to record services, this is a great little unit to get started with.
You can take an output from your mixing console and feed into the USB audio interface, to record whatever is coming through the desk, whether the sermon or worship band. If you like things to be neat and tidy, you could also go for the 8 channel version which comes ready to fit in a 19″ rack. This is an amazing price of kit for the money and one that I have enjoyed using. You can get them on Amazon. Read my review comparing the Focusrite 2i2 to the Presonus Audiobox.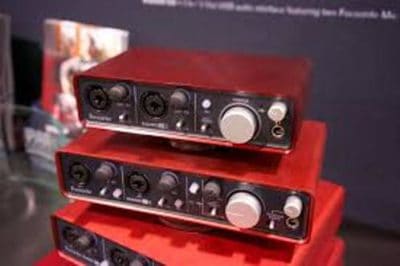 13)Rocket Audio Wireless 2 Channel In-Ear Monitor System
Wireless in-ear monitors are becoming more and more popular these days in churches, although a usable system can be expensive. An advantage is that it takes away the need for floor monitors which can take up a good bit of floor space. This 2 channel, 4 unit system from Rocket Audio is a very good solution for a reasonable price. With 2 channels, it means you can have a mix of two musicians on one and two on the other or three musicians on one channel and one on the others. If you need more channels, you could consider doubling up on transmitter units if your mixing desk has capacity for that. A nice unit for the money.
14)Yamaha DXR 12 Active Powered Loudspeakers
Of all the bits of gear I have recommended on this page, this is perhaps one of the most expensive but the one I am most passionate about. The DXR range from Yamaha are powered loudspeakers, which have some clever technology within them to match the speaker to the internal amp, that is more effective in many ways than trying to match a power amp and mixer to passive speakers. They come in various sizes, but the 12″ DXR 12 has 1100W RMS and has it's own 2 channel mixer, so it could be used as an amp/mixer in it's own right.
Two of these will have plenty of power for most small to medium size churches and I have to say you really need to hear these speakers to appreciate the sound quality. I set them up in one church and a visitor who happened to be a professional sound engineer asked me what kind of speaker we were using as he thought the quality was terrific. If you can afford it, I can highly recommend these powered speakers. DXR12's are unavailable on Amazon just now. To check the price of DXR10 speakers on Amazon, click here. #ad
15)Seismic Audio 16x8x100 16 Channel 100ft XLR Multicore Snake Cable
One of the most important pieces of PA kit is your snake cable. If something goes wrong with this, it can be a complete nightmare to fix, as you have to first isolate the fault,  especially if you have rooted it under the floor. Better to buy quality when it comes to an XLR snake, which is why I recommend going for the best you can afford. This snake from Seismic Audio isn't the most expensive out there, but it is good quality for the money. It is also 100feet long, which is a decent length for many small to medium size churches.