Are you looking for choir microphones to start making a recording of your songs or hymns? Then you are in luck as we can help you find one for recording your music and get great results.
The fact is that you cannot use just any microphone. To mic a choir, you need one with a durable design that can withstand different stages and harshness. Most applications for these kinds of microphones will be those looking to mix live vocals for a church choir or record a choir at a live performance in a church building or a studio.
Most of these mics are condenser microphones and have excellent sound quality and are ideal for a singing group. Just remember that a condenser microphone setup will require phantom power to work. Some of these mics can be used on stands or alternatively as a hanging microphone. It is a good idea to work out your microphone placement before you purchase multiple mics.
The best microphones on the list all have a cardioid pickup polar pattern to give you full HD sound.
Here we have a list of budget-friendly choir microphones you can use to start recording music to make a chorus recording or for live group of singers on stage. Pick one of our recommendations today you will not be disappointed.
1. Rode M5-MP Review (* quality pick)
Here we have a great choir microphone from Rode at affordable prices. The model is a cardioid condenser microphone with a sleek touch, great sound quality and is a renowned brand.
When using the mic, you will make an impact on people as it has a durable design. For this reason, it offers you long-term use.
Furthermore, the mic has 1dB sensitivity with low pickup which is ideal for group singing. Another fantastic thing is the microphones are sold as a matched stereo pair with similar settings for the ideal xy mic placement.
On the other hand, it negates low noise and offers a full frequency range to record music. To add to the excellent features, it is a complete HD sound microphone.
Features:
Sold as a matched pair microphones with 1dB sensitivity

Equipped with a premium foil certification

Layered with ceramic coating

You get RM5 stand mounts with a WS45 windshield

Requires 24V or 48V phantom power
What I like:
Low sensitivity level

Offers a full frequency response

Durable microphone design

Records a full high-definition sound

Equipped with the cardioid pickup polar pattern

Rode M5 is great for vocals as well as acoustic instruments
What I do not like:
In this Rode M5 review, we felt it was not made for beginners to use and is quite pricey
#ad
2. Behringer C-2 Pair (* budget pick)
Here we have the best condenser microphone at a budget-friendly price. With this choir mic, you can do a full recording and pair it with a powerful sound system.
The design has a sturdy structure, and you can record live sessions for a long time. You get two very good stereo mics for a choir with a unidirectional pickup pattern.
Therefore, it only records the sound you hear and no background noise. Furthermore, you get a wide frequency range with the low-mass diaphragm.
You get a sleek case to keep the mic safe and excellent for transporting.
Features:
Two matched pair condenser microphones for stereo recording

Can use it for live applications

Designed with the cardioid pickup pattern

Gives effective feedback elimination

Equipped with a low-mass diaphragm and full frequency response

Requires phantom power
What I like:
condenser microphone for different sound recording uses

Durable design with smooth sound production

Comes with a carry case

You get two mics
#ad
3. Audio Technica AT4021
For critical studio and live applications, it helps to have the AT4021 choir mic with its low profile. You get a flat yet extended freq response with high SPL and dynamic range.
You can use it for sophisticated recording with the low self-noise and equip it with a low-mass diaphragm for transient response.
The mic increases response bandwidth and helps reduce handling and mechanical noise transfer. So if you want a cardioid condenser microphone with terrific sound quality, this is the one to buy.
Features:
Excellent construction and performance and one of the top microphones

Microphone designed with high SPL handling with a wide dynamic range

Offers you a flat extended frequency response

The front-to-back refection ratio is high

Splendid isolation with low-self noise made for digital recording equipment
What I like:
Affordable microphone

Provides a tight pattern for recording music

Durable design mics
What I do not like:
Short mic and needs a short mounting system
#ad
4. Shure CVO-B/C (* value for money and quality pick)
Here we have a great overhead mic at an affordable price. With this condenser microphone, you can record live music sessions for groups.
While it has an overhead hanging microphone design, it still offers you a compact shape making it portable to take anywhere. You can adjust the height to capture sound for the quality recording.
The mic has a tailored frequency response with a cardioid pickup pattern that lessens signal interference. So if you want high quality choir recording in a studio or live without background noise, make sure to pick this model.
Features:
Designed with CommShield to guard against RF interference

Rugged design with a tailored frequency response

Has a freq response of 70-16kHz

The output impedance is 180 ohms

Phantom power required for this microphone

Match pair cardioid condenser mics
What I like:
Compact and durable microphones

Suitable for intense choir performances

Lessens radio signals

Made with a tailored freq response

Mics sold in pairs

Great sound quality
What I do not like:
Minor issues with the second mic
#ad
5. Audio-Technica PRO 45
Here we have the Audio-Technica Pro 45 that has a unique design. The structure of these hanging microphones is compact and portable.
The pickup polar pattern is cardioid, and you can use it to record or deliver voice without background noise or distortion. The low-mass diaphragm comes with a single condenser to filter out external sound.
So when you buy this mic, you get a professional microphone for group recordings.
Features:
Offers you hi-SPL handling for orchestras and choirs

Has a wide-range condenser with low-mass diaphragm

Surprisingly, no need for external phantom power

Gives a smooth and flat frequency response

Equipped with a long attached cable and works with XLMR connector
What we like:
Compact and lightweight microphone

Condenser microphone design that is perfect for recording

Solid build and connects to a wide selection of sound systems

Great sound quality
What we do not like:
There is a feedback issue, and you need to adjust the mic every time
#ad
6. Shure MX202B/C
For recording choirs and performing groups, it helps to have the Shure Microflex overhead mics. With the hanging stereo microphone design, you can use it for sound reinforcement and recording.
The cartridges you change out with different installations and cardioid polar patterns. You can reduce the preamplifier gain by 12dB and has a wide dynamic range with excellent frequency response.
Therefore, you get accurate sound reproduction with RF filtering. The construction is durable with the white/black finish.
Features:
Designed with a mini-condenser and cardioid to use with stand adapter or in-line preamp

Has a balanced output that works well with long cable runs

You get a stand-mount adapter

Offers RF interference and removes electromagnetic hums
What we like:
budget-friendly microphone

Outstanding sound

You get fewer hiss sounds

Durable and compact mics
What we do not like:
#ad
7. Beyerdynamic MC930 (* money no problem pick)
The MC930 mic from Beyerdynamic is a great mic for singers and can be hung from the ceiling or attached to a stand. The price and performance ratio is exceptional.
You get a comprehensive freq response between 40Hz to 20 kHz with a signal-to-noise ratio of 71dB. Furthermore, you can use this condenser mic for solo instruments, orchestras, and choirs.
Moreover, you get switchable pre-attenuation of 15DB and more. Used with the windscreen sold separately, it offers you a wide selection of vocal applications and speech.
Features:
Has a small diaphragm with cardioid polar pattern condenser

The pre-attenuation is switchable

Equipped with switchable bass roll-off filter

Suitable for different vocal uses

High end mic, but at a high price!
What we like:
Expensive, but worth it for the quality

Durable microphone design
What we do not like:
#ad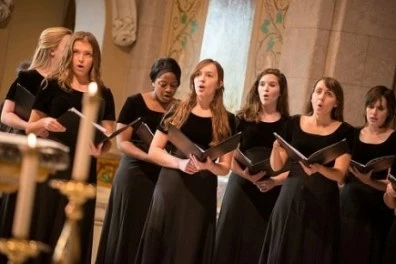 Final Thoughts
With a great pair of choir mics, you can use them in the church, school, or studio. Therefore, investing in one of the models reviewed on the list will not leave you disappointed. We recommend you research thoroughly before making a purchase. Pick your mic today and start recording groups and choirs and improve your overall audio experience.