Here are 9  layout ideas for your church sound booth. I have included a mixture of different tech booths designs for various sizes of church building and setting from small to big churches.
This blogpost will hopefully be a help if you are wondering how to build a soundbooth or just looking for tech booth ideas.
1)The Gallery Desk
If your sanctuary is multi-floor and has a gallery, you may wish to consider placing all your audio gear upstairs overlooking the whole sanctuary, or wherever your main room is. The advantages of doing this are that you will have a better idea of how the sound is being projected throughout the whole building, and that the sound booth location isn't taking up valuable floor space downstairs.
The downside is that when you are doing a soundcheck or tweaking the church sound system, you need to run up and down the stairs all the time. That's fine if you have a small team working with you; not so much fun if you are on your own! If the musicians, singers or even the pastor needs to signal to you or ask a question, it's not so easy to see or hear from up on another floor. If your aim is to have the best sound quality, this might not be the best solution.
The other disadvantage is that if the majority of the congregation are downstairs, then you aren't hearing what the majority of people are hearing. If there was a problem with the sound on the ground floor in the middle of a service, you wouldn't know, unless someone came upstairs to tell you. So, overall, upstairs is perhaps not the ideal location. Something to consider. In terms of the actual booth design, you may be a bit more constrained for space in a gallery, but then again if it is largely unused, then you might have quite a lot of space to work with.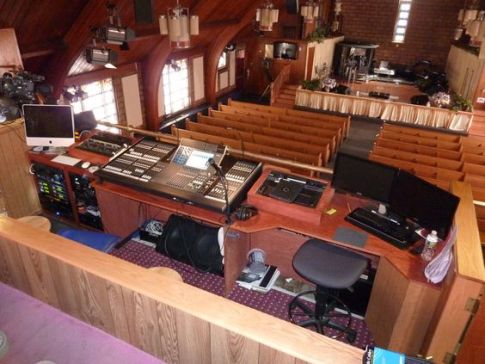 Gallery Booth
2)The Modern Rustic Look
This sound booth design(I believe) was built using planks of wood taken from pallets, placed over a wooden frame. I think it looks great, with the different shades of wood adding contrast and varying lengths of planks. The lettering in the middle just adds to the overall looks. If you are in a church plant, are reaching people in their 20's and 30s and you have a nice modern building, or have a student wing, why not be a bit creative and see what you can come up with. If you have a look on Pinterest or a search through Google images, you will be able to find all kinds of interesting and quirky tech booth design plans in no time. If you are installing a new sound booth from scratch, this style is worth considering if it's a good fit for your church.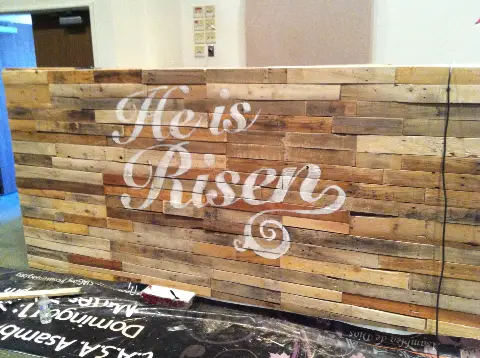 Modern Rustic Booth
3)The Traditional Tech Booth
If your church is a historic building or has traditional architecture, you probably don't want a super modern looking sound desk booth that is going to clash with its surroundings. A more traditional look make be a better option. If you are employing a carpenter or know someone who is gifted in diy woodwork, they may be able to craft something that blends in well with your existing furniture and surroundings.
You could use plain wood and add beading etc, or if you have the money available and your auditorium has ornate woodwork, commission someone to include some carving in your soundbooth design. If your congregation is part of a denomination, there may be restrictions on sound booth locations and what type of materials to use or design you could use. Some denominations require prior approval by regional bodies before any modifications can be made to a sanctuary. Best to check first. If your sound desk is located on the main floor, I recommend raising the booth floor so that the sound operator can see over the heads of the congregation.
You also want to be in direct line of sight with the main speakers so that you can hear everything clearly.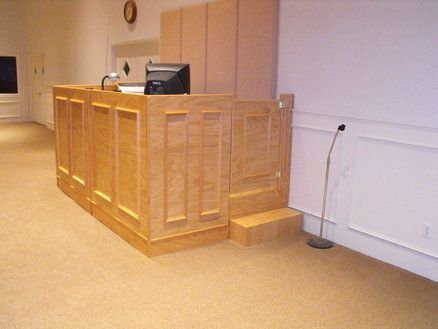 Traditional booth
If you are in the process of building a church audio system you should check out my other post – 24 Things You Need to Build a Church PA System From Scratch
4)Media Desk with Shelves
If you are building a church sound booth or getting someone else to make it for you, don't forget about shelving. You are far better to plan ahead and think what you need and what gear is going to go where, rather than trying to add shelves to your tech booth after it's built. If you have all your gear already, then you already know what you need and what the dimensions are.
I would recommend doing a scale drawing of everything you need to make sure every bit of equipment has a place to go. Don't forget the small items such as radio mic transmitters, effects units etc if you aren't using a 19″ rack. You will need somewhere to put all these things and keep your cabling as tidy as possible. There are various cable management solutions out there that might work well with your desk.
It's worth planning ahead for expansions. If you think you might upgrade your mixer or some other part of your desk in the near future, don't build for what you have today, build for what you might need in the future. Make sure that shelves are accessible and at a good height for users. There's no point putting shelves so low down that you need to lie on the floor to turn a few knobs.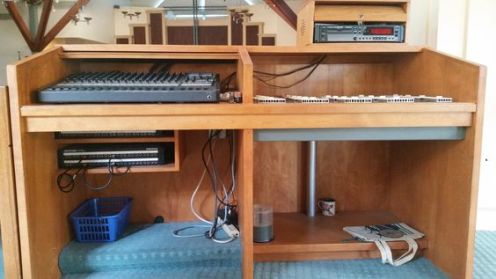 Shelves booth
5)19″ Rack AV Unit Sound Booths
I personally favour using 19″ rack units where possible, because it keeps your mixer and work area free from other smaller gear and cables. A 19″ rack is ideal for putting your power amp, system EQ, CD/DVD player, Direct-to-Digital recorders, and radio mic transmitters. You can get many of these items already designed to go into a rack, or if not, there may be rack kits out there to adapt them.
If you don't like the look of a bog standard rack unit, you can place it inside a wooden cabinet. If you have the cash, you might be able to get a bespoke rack unite built inside a wooden cabinet to blend in with the other church furniture.
I think the rack in the picture below looks very nice and has a pull-down door and lock on it. The other advantage of having most of your gear in a rack is it minimises other people from 'borrowing gear' and stuff getting moved or unplugged. 19″ racks are great if you require portability as you can get some racks that have wheels on them. You can also get smaller units that will fit on a tabletop.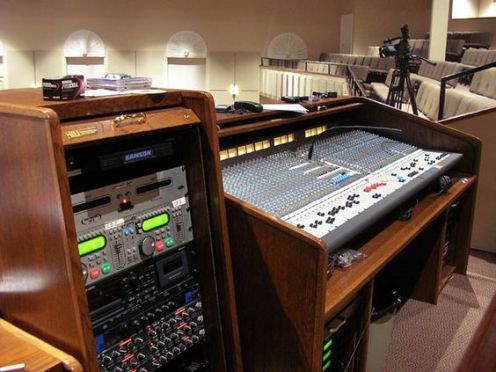 19″ Rack Unit booth
6)Repurposed Pews and Furniture
If you are in a traditional building and and wondering how to make a sound booth that also blends in, a neat solution to this is to repurpose some pews or other bits of existing church furniture. If you know a gifted craftsman, it's possible to build something that won't look out of place in your traditional building. As you will need space for your tech booth, it is likely that pews would need to be removed anyway, so why not put them to good use? Just check that you have enough working area around you for your mixing console and any other equipment you might use.
If removing pews, you may have to remove at least 2 to 3 rows in order to give you enough room for your sound booth construction. I've seen this done really well in a number of older sanctuaries, where modern tech blends in with old traditional furniture.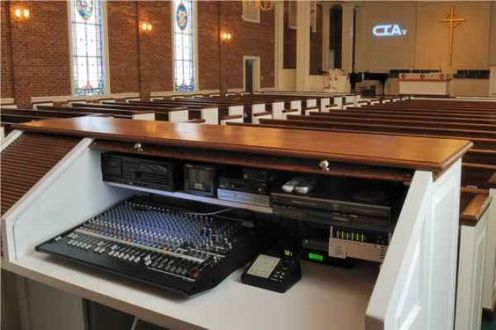 Repurposed Pews booth
Check out my other post on my thoughts about using a  wireless IEM system and which are the best affordable in ear monitors around just now.
7)Portable PA Set Up
Church plants require a portable solution for audio, which is often easier said than done. If transporting gear to different locations, you will likely be using flight cases. You can get flight cases for many brands of mixer. A 19″ rack with flight case it definitely worth thinking about, for keeping your power amp, EQ, wireless mic transmitters etc. Although I personally prefer powered loudspeakers for a portable setup, but that's for another post. I really love the solution in the picture below with the front and back panels of the rack unit flight case that double us as a table. Very nice!
At the end of the day, the aim is to make things as easy for yourself and your church services volunteers as possible and make set-up and tear down as quick as possible. If you are part of multi-site campus congregation, then the logistics of doing the audio are even more complex, but in these situations, ease of set-up and portability for your audio equipment are even more important. Check out my post on my thoughts on the best portable sound system for church.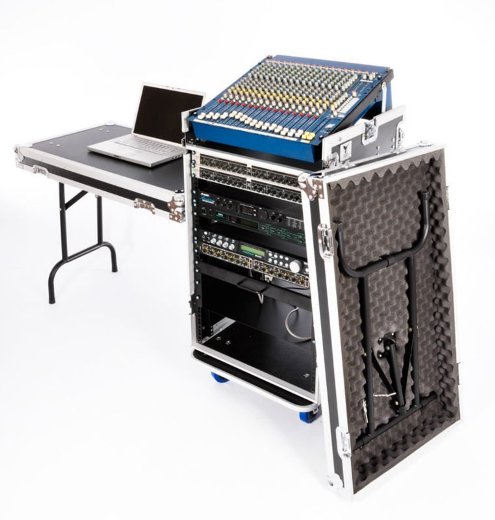 Portable Trolly Flight Case booth
8)Enclosed Audio Room
A room with viewing window sound booth is popular in larger churches, and obviously takes a lot more planning(and money) to pull off. You still need to come up with a desk design for all your gear. I see a few advantages in doing this –
1) is that after worship, you can lock the door and no unauthorised person can tamper with the equipment. I've seen kids at the back of the sanctuary after service playing with the sliders on the mixer while the sound guy is away having coffee!
2) you have peace and quiet to work away before the service begins without interruption, and is the room has the correct kind of glass on the window, it will hopefully be soundproof. You may wish to attached some acoustic panels to the walls, for extra soundproofing.
3) if you have a complex video set up and your video producer is speaking instructions to camera operators, then you don't want that being heard during the service or sermon. So it makes sense to have a soundproof room.
If the video equipment is located in the room, then it might make sense to run your soundboard from there too.  The downside I see is that you aren't really experiencing the sound as the congregation are. It's an artificial environment, more like a studio than a live sound desk. At no live concert or event out with the sanctuary, have I ever seen the sound booth operators closed off in a separate room. They are almost always placed in the middle and towards the rear of the auditorium, which is probably the best location. Also, as a worshipper yourself, you may feel disconnected from the service and the rest of the congregation. It might be too easy to take a nap during the sermon!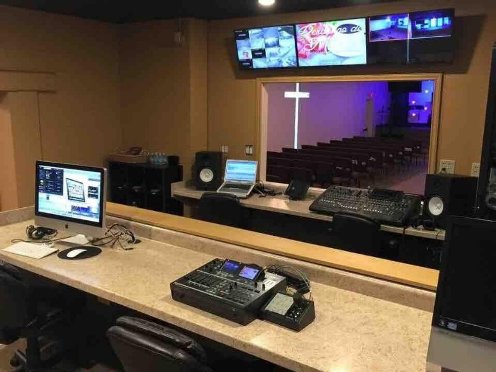 Enclosed Booth Room booth
Check out my other post on my thoughts on Presonus studio vs Focusrite Scarlett.
9)The Simple Desk
A sound desk doesn't need to be complicated, in fact, plain and simple is sometimes better. What kind of church sound
booths look good, will depend on your surroundings. If the building you are in is plain and functional, then why not keep your audio system desk quite simple? As long as you have enough room for your mixer, laptop and a few other bits of sound equipment, that may be all you really need. If you are a plant and just starting out, I know you probably don't have a lot of money about.
Keep it cheap and cheerful, as long as it does the job and you have adequate space to work. You could get a pretty decent desk for a $100-$200, or if you can find some easy to follow construction plans, build one yourself. Why spend more or over complicate things?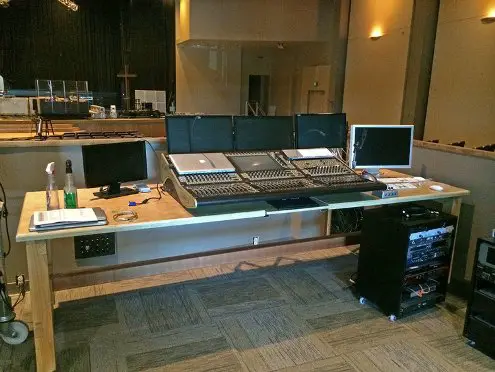 Simple Desk booth
Hopefully this post has given you a few church sound booth layout ideas that you can use in your own congregation. If you enjoyed this post and found it useful, please remember to like and share. Thanks.