Digital mixers are a must-have for the sound engineers of the twenty-first century. New digital consoles are introduced into the live audio market every year.
Midas and Behringer are two of the industry's most recognisable brands. They've been in the mixing console business for a long time and producing some of the best value for money digital mixers.
This article will assist you in comprehending the features of two of the most popular consoles introduced by these companies. They are the Midas M32 alongside the Behringer X32, and they are currently two of the most popular mixing desks in the church audio market. Midas and Behringer are owned by the Music Tribe Group. The similarities and differences between the two products will assist you in determining which product is superior.
If you're having trouble deciding between the Behringer X32 vs Midas M32, hopefully this article will help.
Churchsoundtips.com is a participant in the Amazon Services LLC Associates Program. As an Amazon Associate Churchsoundtips.com earns from qualifying purchases. 
Midas M32  – Digital Mixer for Live and Studio
Product Description-
The Midas M32 soundboard is a highly reliable console for the studio as well as live performance and performs well under challenging tests. #ad Its innovative design leaves a remarkable impression even in the most challenging venues such as in live performance locations. Live performance locations are challenging. The M32 has a high potential of overcoming such challenges. It is a considerably evolved design based on innovative features.
The Midas successfully combines high-tech equipment and principles of modern construction. It is a result of this combination which is proving to be a milestone in the history of the console. It is also worth checking out the M32r which is a more compact and cheaper version of this mixing desk.
Key Specs-
Product Weight: 75.8 pounds
It comes with a warranty period of 3 years.
X-LIVE X32 Expansion Card is designed for 32-Channels for Playback and live to record
16 Output Processing Channels
Input Processing Channels: Aux Channels-8, Input Channels- 32 and FX Return Channels- 8
Midas Microphone Preamplifiers: 32
Internal Effects Engines: 16 (Mono and Stereo)
Main LRC: 100
Aux buses: 16
Matrices: 6
It is made up of high-quality aluminum, and carbon fiber.
Headphone output for monitors
Dimensions – 
Product Information-
Midas M32 construction is a space-free console. Sub-frame parts are made up of lightweight carbon fiber and high-quality aluminum. The high-quality material used in the manufacturing makes it a highly durable and long lasting console. It is made up of many alloys. It is done to ensure high component efficacy. It also results in a high performance-to-weight ratio. This console successfully combines high-sound quality with progressive digital technology.
This sound board's reputation is unshakeable. Midas is well-known for producing dependable and innovative audio mixers. Midas' M32 digital mixer is another step forward in the world of digital innovation. It has a lots of innovative features and is ideal for medium or large venues.  Because of the cutting-edge ergonomics, it is a mixer that is easy to transport. It's no surprise that this digital mixer has a cult following and is so well-liked. If money is an issue, there is also the M32r, which takes up less desk space and is less expensive.
To check Amazon for the price of the excellent Midas M32, click here
#ad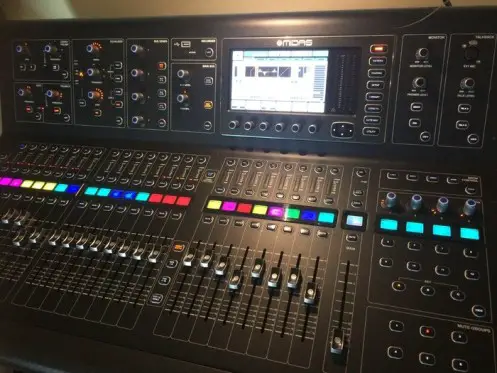 Product Features-
Preamps and effects editing and processing
As far as live sound reinforcement section is concerned regarding the Midas M32 vs Behringer X32, the M32 digital console has a gold standard in that section. Any mix that is created by the user begins with premium quality sound. Transparency is produced impressively by the low level of harmonic distortion and high common-mode rejection ratio. Midas analog technology is beyond the description. Premium sound is the result of 32 Midas preamps.
Ultramodern ergonomics
Ergonomics plays a crucial role in creating a perfect mix in a short amount of time. Most of the controls are in the center and front. All of them are in considerable reach. Deeper functions and accessibility to fader layers is easy. No effort is required to reach them. This console has a perfect form and high function efficiency. It is stylish as well as sleek. A combination of materials such as steel, carbon fiber, and aluminum makes it weigh less. They offer a superior level of stability to the console. Thus, Midas M32 becomes a perfect console for day to day operation. Materials that are selected make it stable as well as light in weight.
Software applications
The Midas M32 is for the professional level of sound reinforcement. Converters, mic pres, motorized faders, onboard processing and routing help in mixing and recording. Plug in a flash drive in a USB slot and start recording. The user can even connect directly to DAW with the appropriate software. There is a built-in 32-in/32-out USB 2.0 audio interface. All these recording capabilities make it perfect for live work as well as for use in a recording studio. The user will love the work of high-resolution faders in the studio.
Pros and Cons
Pros-
The M32 is a highly reliable console designed for the live as well as studio performance. It does not fail to impress during outdoor locations and in front of a live audience.
It has an ideal design and adopts an innovative approach. It caters to meet the needs and demands of the modern era.
It is made up of high-tech equipment. The modern constructive approach is adopted.
It comes with a warranty of 3 years. A backup offers security to the purchaser.
It is made up of high-quality carbon fiber and aluminum. It is light in weight. The high-quality materials used make it long lasting and highly durable console.
Multiple alloys used in construction provide it a high ratio of performance-to-weight.
It offers high sound quality and is an advanced digital technology console.
Cutting-edge technology is the basis of the manufacturing process.
The M32 has lots of features and functions as far as sound customization, plug-ins, and presets are concerned.
It has an outstanding 40 channels. It can completely change the Church sound and modify with better audio sounds. Thus, this mixer is best suitable for Churches.
It has an appealing architectural design.
Cons-
The M32 is quite expensive making it out of range of some buyers.
It is robust. Transportation is unwieldy.
Real user comments –
Most users love and highly recommend this console for its outstanding features and functions. Beautiful design and features are frequently mentioned. Many users recommend it because it can serve both live performances and studio work.
Midas M32 is an excellent recording console and could be used in a professional recording studio. It features a total number of 40 input channels. It comes with eight processing engines and eight DCA groups. The open design is highly durable, long lasting and very beautiful. It weighs less than an average console. This console is a new speaker for style and innovation. The Midas will stretch your budget, but you get great value and quality for the amount spent. It highly excels in various fields of performance.
It is a high quality piece of gear that is used widely in churches. To check how much it is to buy Midas M32 on Amazon, click here
#ad
BEHRINGER X32 – 32 channel digital audio mixer
Product Description-
The Behringer X32 is an innovative game-changer console. #ad It is popular among its users and is gaining popularity over a period. It is a product of advanced engineering. It is highly capable of delivering outstanding sonic performance. Thanks to its perfect design. Moreover, it is highly affordable and thus not heavy on the budget. It enables a smooth workflow along with a complete collaborative user interface.
This digital mixer has significantly raised the bar with the Behringer X32 built-in effects. It is a unique combination of cutting-edge technology and usability. It allows both professionals and laypeople to be as creative as they want. It is well-deserving of its meticulous design and does not fall short of the high engineering work that went into its creation. The Behringer is a unique and natural console. It is a fantastic console for the modern era that can meet all of your needs and requirements.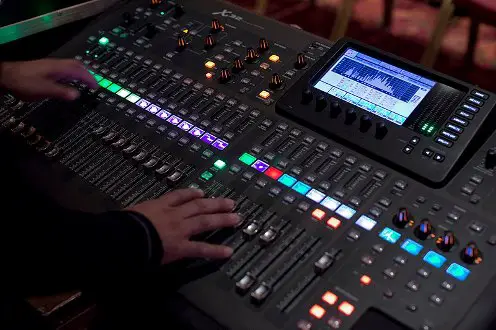 Key Specs-
Product Weight- 45.4 pounds
It comes with 2.0 firmware. It improves the workflow.
Acoustic Integration helps in complete connectivity and controls speakers.
The Behringer X32 comes with In-Ear Monitor output channels support.
Swappable expansion cards connect other multi-channels through ADAT, USB, and Dante and MADI protocols.
It comes with 40 simultaneous mic input or instrument channels
25 Mixed Buses
Programmable MIDAS Preamps: 25
Motorized Faders: 25
32 channel audio interface
29 Scribble Strips which are programmable
7″ day-viewable color Thin-Film Transistor (TFT) touchscreen channel display
8 Digitally Controlled Amplifiers (DCA) groups
2.0 firmware
100-band Real Time Analyzer
Quick FX editing
16 FX "Plug-Ins"
The Behringer X32 is remotely controllable.
Dynamic range of 104dB
Monitoring headphone output
Dimensions-
Product Information-
The X32 mixing console is a combination of productivity and creation. Irrespective of whether the user is new or a professional, it creates an experience that is easy and instant. The reason is the presence of an inbuilt user interface. It makes a user feels like home. It is equipped with a library export/import capability that is flexible.
The Behringer X32 is a product of the three companies who had the same vision. They wanted to build advanced audio equipment. They wanted it to sound perfect that could be used by professionals.
It is a product of MIDAS, KLARK TEKNIK, and BEHRINGER's combined efforts. MIDAS is a world-renowned iconic name which needs no introduction in the field of consoles. It is an expert in console manufacturing. KLARK TEKNIK is the genius of signal processing. BEHRINGER is the reason behind the delivery of the value proposition. This product is a result of efficiency in engineering, application and manufacturing process. It was possible due to the synergy between three iconic companies.
Product Features-
Acoustic Integration
16 New FX plug-ins are incorporated in it. A classic analog gear gets rebuilt. Digital networking added permits user to connect with TURBOSOUND iQ speakers through the CAT5 connection.
Motorized Faders
100 mm, 25 long-throw Motorized faders help in primary mix control. They are designed to deliver multiple functions. They keep the user informed. They can store almost 100 scenes. Motorized faders hop to life instantly. There is a convenience in sorting out assignments as separate sections for faders are available for inputs and buses/groups.
Digitally Controlled Amplifier (DCA) groups
DCA groups grant control over many signals at once. They allow efficient controlling without letting them get mixed into a subgroup bus. This mixer comes with 8 DCA groups. A single fader controls multiple audio signals such as the horn section, drum mix, and backup vocalists. DCA group also influences the FOH mix. Individual buses remain consistent and unchanged. It results in flexibility. Subgroups and buses function in their respective areas with efficiency.
7 inches Thin-Film Transistor (TFT) Display
The Behringer X32 comes with a 7 inches day-viewable color display. It displays the setting parameters when needed. TFT design is ideally perfect for outdoor venues. It is ideal for concerts and open-air festivals. It provides good outdoor visibility. It is designed to deliver a high-contrast functioning. It is made up of context-sensitive and high-precision tactile encoders. Thus, the display screen instantly comes to life and addresses in high definition. A highly innovative design is intelligent enough to control significant functions such as metering, effects, and routing with one or two buttons.
Channel Strip
The most significant channel processing parameters are put into a single section using a Channel Strip, allowing you to work on any channel. The controls are the same at all the time. A clear-cut level or status indication from different viewing angles is enabled. Thanks to the optimized control illumination of the Behringer X32. Illuminated rotary encoders and switches provide maximum control of various settings such as the microphone preamp settings, dual dynamics sections, frequency shelving, multi-mode fully parametric EQ, main, stereo and mono panning, and bus sends.
LCD Scribble Strips
Behringer X32 is efficiently equipped with the automated control surface. It is designed to give optimal control in the user's hands whenever he needs it. It comes with 29 programmable Scribble Strips. #ad They facilitate bus/channel identification. It helps to know what is getting controlled and you make use of them either to enter output tags or input tags. A user can add icons and colors can be assigned to create visual groups of similar inputs for on-the-fly and immediate recognition. Everything is simple, sophisticated and at the same time effective.
Sends on Fader feature
Behringer X32 offers the accessibility of digital mixing to the user's Aux as well as output bus mixes. It is all possible due to the presence of an in-built Sends on Fader. You can build sub-mixes for secondary zone feeds and much more without disturbing the front or levels of house mix. The operator can send his choice of signals to any output bus or Aux and create the mix through channel faders.
It comes with an excellent memory and remembers the exact locations of the set faders. Whenever the user selects a bus for making quick adjustments, it recalls the set faders without any delay. Check out my other post on aux send and return and how to use it.
Pros and Cons
Pros-
This digital mixing console is value for money. It has enormous innovative features and high level of versatility. All this come at an affordable price making it a perfect console for the money spent.
The Behringer X32 comes with the perfect professional audio mixing tool.
This console has an enormous potential for sound customization.
The console comes with dozens of IO jacks.
Many features such as Auto Mix feature, as well as others, are all easy and beginner-friendly. It is a console which instantly makes the user feel at home.
Cons-
It is slightly on the bulkier and heavier side.
The Behringer X32 has slightly inferior performance when compared with other digital consoles of this era.
Real user comments
Many users have recommended Behringer X32 for its features and the price. They have found its layout is intuitive. The Behringer X32 built-in effects are appreciated a lot.
It is mentioned sometimes that it can be a bit bulky and difficult to carry around.
The X32 is a really great console for small as well as medium-sized churches. It will allow having more number of channels than the old analog board. If looking for a high-end mixing console at an affordable price then this is the best console to purchase. It is highly versatile. It boasts 40-input channels. It is a little heavy. Still, it is an excellent audio mixer. It is value for money spent, but also if your budget is tight you may also want to consider the X32 Compact which is cheaper still.
This console is just excellent to use. It is also the most widely used digital mixer in churches today and has a large user base with many excellent tutorials on Youtube etc.
To check Amazon for the price for the Behringer X32, click here
#ad
Evaluation of performance-
Similarity:
Both of them match each other in performance. They excel in their performances. This specific area is where they are similar to each other.
Dissimilarity:
The two different brands manufacture these two consoles. They differ from each other due to the difference in technologies. Thus, there is a slight contrast as far as performance evaluation is concerned. The Midas desk is relatively stronger than the X32 as a live sound desk. It permits more precision in sound customization. Its features, when compared with Behringer X32, are superior. It makes M32 a winner in the sphere.
Evaluation of price-
There is a quite a price difference M32 is a bit pricey. It is more expensive than the Behringer, which makes the X32 lead the sphere as its purchase does not break the budget. People who are searching for high-performance consoles find both of them equally valuable. Midas M32 may be a little expensive. However, it is value for money. However, those who wish to purchase one but can't afford it usually end up with the X32.
Contrasting features:
M32 of Midas comes with latency-compensated buses designed for live performances. X32 lags behind in this aspect. It comes with latency introduced by FX. If looking for consoles for live high-performance, Midas M32 just edges it in this regard.
The X32 mixing board is relatively inferior in performance when compared with Midas M32. If desirable of high-level performance, M32 is the clear winner in this area. There is no comparison of M32 when it comes to high performance. And of course there is plenty of online material and videos offering tutorials, guides, tips and tricks on using the two mixers.
Summary
These are two high-quality and popular consoles. However, when all of the features of these mixing desks are considered, the Midas is a clear winner in the technical race. However, the Behringer did not lag far behind and, of course, it is significantly less expensive than the M32. It still gives the M32 a run for its money. Both consoles are, of course, high-quality pieces of audio equipment. Both high-level performance and high-quality features rank highly.
Despite being from different brands, both consoles are very similar in many ways. If you asked me 5 or 6 years ago, about the Midas M32 vs the Behringer X32, I would have said that the Midas was the clear winner, but when you consider it's age now and the competition in that price bracket, I would say that the Behringer would be my pick at the moment.
Frank Edwards is the founder and owner of churchsoundtips.com and has over 10 years experience running sound in his local church.