I have used a number of different handheld dynamic microphones over the years for church vocals, but the e935 has proven to be a good mic and has a lot going for it.
Sennheiser e935 features
The Sennheiser e935 microphone is a powerful handheld,
beautifully balanced but fairly priced supercardioid dynamic mic. It is unpretentious and
works effectively for deeper male and high-pitched female voices. Since it is a
cardioid mic, it sounds natural and has a high level of feedback rejection.
The e935 was released as part of Sennheiser's Evolution
900 line of microphones. These mics are designed for musicians who require a
tough mic for life on the road that can take a lot of beating without dying on
them during a tour, but equally suited to the less demanding environment of a church.

Featuring instrument mics and highly specialized vocal,
the e900 series promises dynamic, finely calibrated, natural sound that is rich
and detailed. These mics were conceived as high-end, workhorse products with
unparalleled sound quality, unmatched reliability and unbeatable feedback
rejection.

At a glance, the dynamic e935 looks like the average
on-stage mic. Featuring a nominal impedance of 350 ohms, the product is as good
as any other stage microphone in the field. Its cardioid pickup pattern assists
with reducing feedback even when placed near monitors and speakers.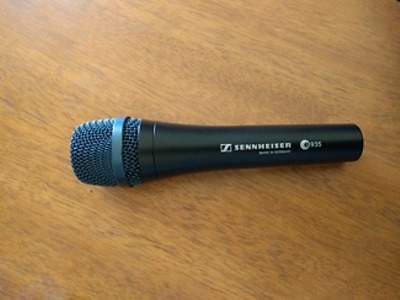 One of the things that makes the Sennheiser e935 microphone
really standout is how adaptable the mic is. Though it functions
effectively for moderate volume levels, the mic still holds up well during louder
events too. Surprisingly, the mic does all that
with a decent 2,8V/Pa=51dB. #ad

While all these are standard features for such mics,
the e935 packs much more punch compared to the ordinary cardioid mic. Featuring
an extended frequency response (40-1800 Hz), the mic has an increased
sensitivity and realistic sound reproduction to go with the vocals. In
addition, the product comes with other features including a storage bag, clip
and XLR-3 connectors.
See the frequency response below

Sennheiser e935 Design and build

When compared to other mics within its price range,
the Sennheiser e935 cardioid dynamic mic tands tall among its peers due to its aesthetically
appealing design. When you are trying to create a niche for yourself in a
crowded market with stiff competition, you need to do things differently.
Weighing about 330 grams, it is slightly longer and
heavier compared to its SM58 counterpart. It features a solid, sleek, black
metal design and black coated grille mesh which making it not only durable but
giving it a good feel. Looking at the mic, the only thing that breaks the solid
black pattern is the trusted Sennheiser logo attesting to the renowned German
technology behind the product.

Overall, the mic is well balanced and comfortable. In spite
of its sleek design, the mic is no studio weakling and can withstand its share
of rough handling. The Sennheiser microphone's sturdy build make it tough
enough to function in different weather conditions without affecting its
reliability as a handy workhorse for stage functions.
It can survive several
drops from as high as 5 feet without as much as a scratch. In fact, some
musicians claim that it can withstand banging against a concrete wall and still
keep functioning (not recommended). Sennheiser is so confident about its
durability that they give a 10-year warranty which tells you something about
the quality of the mic.

Apart from being highly resistant to feedback, the mic
features a humbucking coil. This makes it possible to cancel interference. In
addition, the shock-resistant capsule mounted on the mic helps in minimizing
handling noise during a performance.
Sennheiser Quality
When you are up performing on stage or leading worship, you want to
deliver your best. No one understands this better than Sennheiser. To make this
possible, the mic comes with a well-crafted frequency pattern to give it a
reasonable boost and a dynamic base roll. At all frequencies the mic gives an
optimal balance helping to nail live performances without breaking a sweat as
your voice cuts through the instruments without the harshness of a condenser
forced to work on stage.
The e935 sounds quite smooth in spite of saving a lot of
clarity and detail. Most mics within this range would sound messy when put
under so much pressure during a live performance but not the dynamic e935. The
optimal balance goes further to make transitioning between sounds a natural
experience.
Perfect for male and female lead singers
The Sennheiser e935 supercardioid dynamic microphone is a perfect companion
for both male and female lead singers. While being dynamic and unpretentious,
the handheld mic produces a beautifully balanced sound offering you the high quality
of a condenser mic. Though it is a cardioid mic, it produces better sound
compared to its super-cardioid competitors. And for your lead
singers, you do not need to worry about bleeding. Basically, bleeding occurs
when a mic picks up a sound from a source different compared to the intended
source. #ad
Versatility
Every singer knows that a mic can make or
break their performance. As a result, singers prefer to handpick mics to
suit their own individual needs and voices. This is where the Sennheiser handheld dynamic mic
comes to the rescue. Since it has a sweet spot, it is easy to handle and works perfectly
for a wide range of voices. Whether you are purchasing the mic to enhance a
baritone voice or for a soprano, this versatile mic
will not let you down.
Sound clarity
There is a good reason why the e935 stands out among
its peers: it is clear, loud and highlights the faults in your voice. This
means that the mic just like a good trainer helps in pointing out your faults
and challenge you to enhance your voice as well as performance. Does this claim
sound impossible?
Consider this, if you are used to less customized mics such
as an SM58, you are likely to find the e935 very different. Why? Because while
most mics in its category subdue and blend your voice, the e935 does the very
opposite. It makes your voice stand out clearly and brightly.

Rather than mask your weaknesses, the mic highlights
the flaws in your voice challenging you to improve your performance. To people who
are used to regular mics, this might be a bit of a shock at first. However,
dedicated musicians quickly learn to improve and adapt to the challenging mic.

To check the latest price of the e935 on Amazon, click here
How does the dynamic e935 mic compare with its
competitors?
Shure BETA 58
The Sennheiser e935 microphone is a direct competitor
of Shure's BETA 58A. These two mics have been going head to head for quite some
time due to their similarities and differences in certain aspects. #ad

In terms of hardware, Sennheiser's 935 packs its own
shock mounting system which is quite effective. Under the hood, it features a
strong Neodymium magnet that includes some boron. This helps in enhancing
consistency making it a very versatile performer.
Check price of the Shure BETA 58A here
#ad
Sennheiser compared with Shure?

One area where Sennheiser took a different path with
the e935 compared to Shure's 58A is the polar pattern. Sennheiser decided to go
with a standardized cardioid pattern, this comes with some pros and cons.

While the dynamic e935 is not as clear as the Shure BETA 58A, the
mic has a smooth response range. Its lackluster performance at clarity compared
to the Shure model can be probably attributed to different polar pattern
compared to its competitor. In all the other aspects, the Sennheiser stands
tall when placed alongside the Shure BETA 58A.

In terms of applications, the handheld e935 is a truly
vocal microphone, but that is how it is tuned. While it packs enough power to
cut through the audio mix, it does not go to an extent of pushing it outside the
comfort zone.

Ultimately, Sennheiser seems to have outplayed Shure's
58A in this one. For such an ordinary looking mic, the e935 packs quite a punch
with a lot of reserve on tap.
e935 Downsides
Though the e935 is probably one of the best mics for
lead singers and sounds great, there are a few downsides to the device. The good news is that
you can work most of these downsides to your own advantages. Some of the
downsides may include:
Oversensitivity
Some singers have complained about the sensitivity of
the mic because they are used to less sensitive products. To make the best of
this problem, you need to master the art of how to handle the mic. If you fail
to cultivate discipline when positioning the mic, you are likely to continue
complaining about the plosive sounds coming through due to improper handling.
Voice clarity issues
The mic is so sensitive that you may have to undergo
re-training to work with it. This might mean more work for people who are used
to a mic that muffles and merges their voice such as the Shure SM58. 
#ad
Sensitivity
While some people look at the sensitivity of the mic
as a disadvantage, some see an opportunity for improving their performance.
Naturally, retraining means more work which might also come with some expenses.
This explains why some singers see the mic's sensitivity as a downside.
What customers say about the e935 cardioid
Most customers are full of praise for the e935 cardioid handheld microphone and have been extremely pleased with it. Many are blown away with it's performance as a live vocal mic.
Bottom line
When all is said and done, it is important to note
that the Sennheiser e935 mic by comparison, has managed to hold its own in a highly
competitive field. While its sensitivity and high output means that you need to
master the art of handing a sensitive mic and must develop more disciplined
vocals, these are just small sacrifices when compared with the powerful, bright
and clean sound that cuts through the mic without a hint of muddiness. #ad
For any discerning musician, the Sennheiser
e935 microphone is a great piece of equipment for people who are tired of
standard mics and are looking for a product which packs a bigger punch compared
to regular mics. The ability to enhance your performance, combined with a tough
design and frequency response make the dynamic e935 a great companion for lead
singers who require a mic with great value and excellent performance rolled
into one package.
Also for those using USB mics for podcasting etc, the e935 combined with a small mixer would make an excellent alternative.
In this Shure vs Sennheiser fight, in my own opinion, the Sennheiser e935 is a great vocal mic and sounds better to my ear and a great addition to any church worship and music setup.
If you want to check it out on Amazon, just click here for current prices and spec.
#ad
Sources:
https://en.wikipedia.org/wiki/Shure_Beta_58A
https://en.wikipedia.org/wiki/Sennheiser